Lawson's Growth Potential
Lawson's Growth Potential
The industry maintains the capacity to grow mainly
through expansion that transcends conventional business modes
Leveraging their underlying strength as neighborhood stores that operate on a 24-hour basis, convenience stores have continued to develop and grow by providing products and services across a variety of formats. Against the backdrop of an increase in demand for ready-made meals and instore foods, for example, we are seeing a shift in demand from eating out toward food services, lunch-boxes, prepared foods, fast foods, and, more recently, freshly brewed coffee.
This trend reflects shifts in demographics, especially such changes in society as the growing number of women in the workforce as well as the declining birthrate and aging population. There are indications that these trends will trigger a major readjustment within the retail industry in three to five years. As a case in point, there are currently 50,000 supermarkets and 80,000 drugstores and prescription-selling pharmacies in Japan. If we successfully implement a finetuned response to changes in local communities, we anticipate the frequency of visits to neighborhood convenience stores will increase, to the detriment of supermarkets in faroff locations and downtown drugstores. Taking into consideration this forecast industry reorganization and various trends, including the expansion of the customer base across conventional business modes, We are confident that there is ample room for convenience stores to grow.
Pursuing additional growth opportunities as a neighborhood store
The Great East Japan Earthquake served to reinforce awareness of the social infrastructure function of convenience stores in providing essential items and services at the local level. Against this backdrop, We strongly believe in the potential of our business model, which focuses on our status as a manufacturing retailer based on small commercial areas and our ability to provide customers with whatever they want, whenever and wherever they need it. We would like to take this opportunity to briefly outline how we are attempting to promote this business model from the three perspectives of store opening, products, and store management.
Looking first at our strategies for opening new stores, we have worked to differentiate ourselves from other companies by promoting our role as a neighborhood store and developing multiple formats at the earliest possible opportunity. This focus on the aggressive development of multiple formats has led to the launch of health-conscious NATURAL LAWSON, fresh food-type LAWSON STORE100. Through a process of store development evolution, we have successfully addressed the needs of women and the elderly, which for the most part had been unmet by conventional convenience stores. Moreover, in order to respond to the needs in the health-related market that has potential for expansion in the future, we are working to open health-care focused stores that sell over-the-counter medicines (non-prescription drugs) and additional type of health care stores those with a nursing care center. By ensuring that the format of newly opened stores matches the needs of each community, we will expand our market share as a neighborhood store.
Moving forward, we will make the most of our unique strengths as a manufacturing retailer by positioning original products as the driving force behind our expansion. In developing original products, Lawson is working closely with raw material procurement and product development departments as well as marketing departments that engage in Ponta multi-partner loyalty point program data analysis. This model goes a long way toward developing high-value added products from the customer's perspective while helping to secure high profitability. At the same time, efforts to strengthen original products that boast high gross profit margins contribute to an increase in the gross profits of existing stores. This in turn is a major factor in achieving significant improvements in franchised store earnings.
From a management and store operating perspective, reinforcing relationships with franchised stores will be increasingly important if we are to prevail over the competition. Historically, we have conducted Lawson Seminar and Owners' Meeting events to convey and share with franchise owners our Corporate Philosophy, strategies, and principles. In order to build robust stores and forge a strong position within each community, we have also held Area Meeting events to share best practices and reinforce collaboration. Looking ahead, we will endeavor to further reinforce these relationships through a variety of initiatives. In addition, in fiscal 2015, we have accelerated the implementation of a new franchise contract, in which headquarters covers a portion of franchise stores' disposal losses, and activated a new unconventional semiautomatic ordering system based on a fundamental review of our operations. We will, for example, expand mechanisms to support outstanding franchise owners who exhibit a strong entrepreneurial spirit.
Lawson as a neighborhood store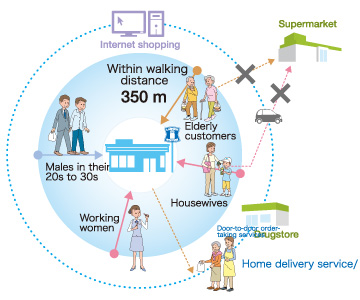 Lawson's Growth Potential
Other Contents

Lawson is not only a convenience store. We also have group companies including entertainment, media, ATM networks, and more.

Lawson regards its stakeholders as important and strives to maximize corporate value.

We strive to nurture human capital that thinks and acts autonomously.