Sustainable Growth and Business Model
Sustainable Growth and Business Model
Lawson continues to grow by basing its business on a "customer-oriented" perspective and accurately discerning the needs of society.
Lawson has responded proactively to changes in society since its founding, continually identifying customer needs and developing new products and services.
To ensure its position as an essential part of its communities that provides support for residents' lives, Lawson is determined to continue pursuing and advancing the Next-Generation LAWSON Convenience Store model from the customer's perspective.

Against the backdrop of changing community needs as the population ages and growing numbers of nuclear families, coupled with accelerating industrial reorganization, today's convenience store industry finds itself at a significant turning point. With people's dietary lives changing as their lifestyles diversifying, convenience stores are forced to implement appropriate measures in response. These circumstances notwithstanding, the convenience store market has expanded in size to as many as 56,374 stores with annual sales of ¥11,745.1 billion (figures as of end December 2017).
Determined to remain an essential part of its communities that meets needs as they arise in customers' daily lives, Lawson will advance its business model as a manufacturing retailer based on a small commercial area and increase its store productivity to an unprecedented high level.
Changes in sales by all convenience stores versus sales by LAWSON convenience stores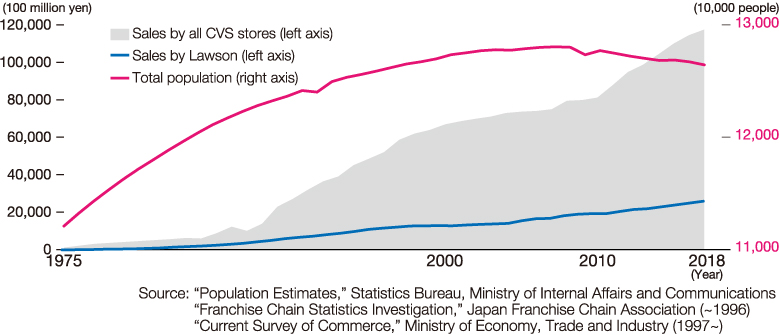 Our Business Model and Issues Confronting Local Communities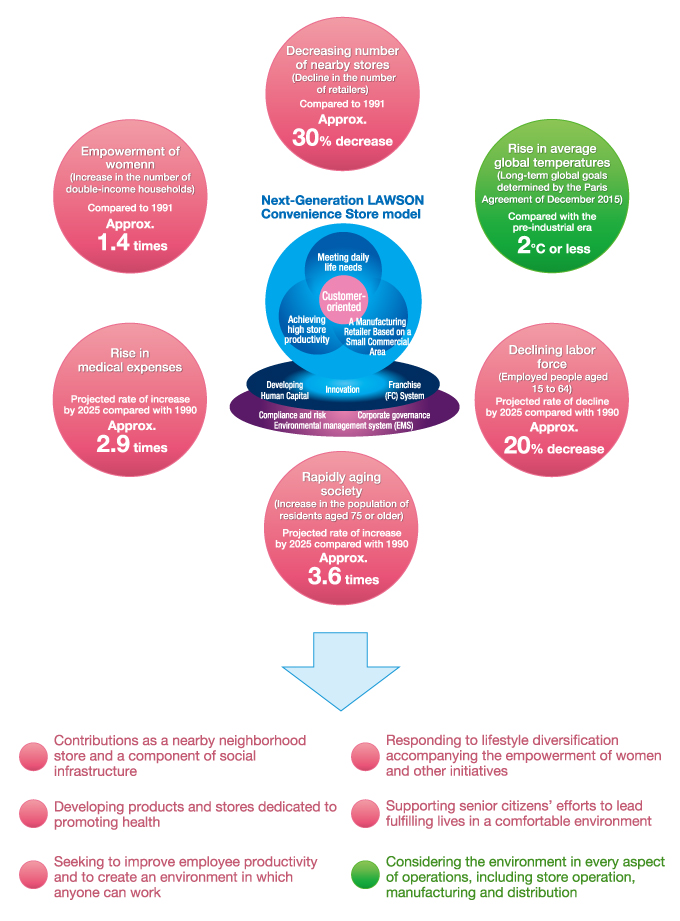 Meeting daily life needs
"A place where daily-life essentials are always available, even at night." This is the conventional view of the convenience store. Lawson is not satisfied with that definition; instead, we strive to be a neighborhood store that anyone might find indispensable at any time in the daily life of the community. We stock essential products for daily life, while also making every effort to meet particular needs for such items as healthful, small-portioned products, especially for elderly customers who are unable to travel long distances for shopping and customers with limited time. Lawson is expanding its services at the stores as well, adding new offerings such as ATM and financial services and temporary reception of Internet orders for customer pick-up. By transitioning from a "merely convenient" store to an "essential part of our communities," LAWSON is helping community residents live safe, healthy lives.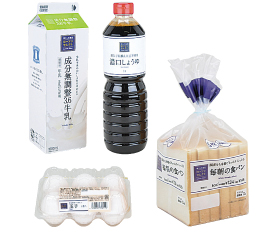 A manufacturing retailer based on a small commercial area model
As a neighborhood store located within easy walking distance of customers' homes and workplaces, Lawson offers the most appropriate items from a unique product and service lineup closely related to customers' daily lives in a timely manner to a wide range of customers— including elderly neighbors and working women as well as young community residents. To fulfill this aim, we need a mechanism for managing the overall supply-chain processes, from product design, raw materials procurement and manufacturing to distribution and sales, so that finished products are delivered safely and reliably. Lawson is determined to continue improving added value as a manufacturing retailer through measures such as increasing our commitment to optimizing raw materials procurement and manufacturing.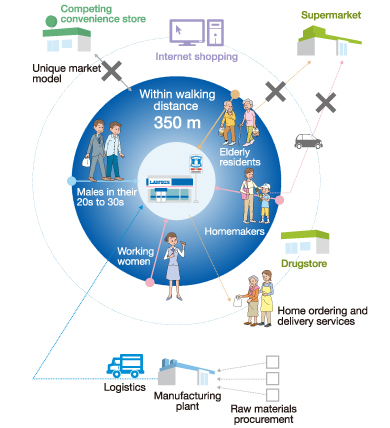 Achieving high store productivity
It is the individual stores that encounter customers in their communities. As products and services grow in number and variety and store operations increase in complexity, improving store productivity has become an important issue. To provide our increasingly diversified human capital with ample opportunities to utilize their capabilities, we seek to develop simplified operations that anyone can handle easily through the use of leading-edge digital technologies. Lawson will continue to improve its store productivity by leaving the tasks machinery can take care of to machinery, while focusing on warmhearted service that only human beings can provide.
Sustainable Growth and Business Model
Other Contents

Lawson is not only a convenience store. We also have group companies including entertainment, media, ATM networks, and more.

Lawson regards its stakeholders as important and strives to maximize corporate value.

We strive to nurture human capital that thinks and acts autonomously.