Our Business Model and Issues Confronting Local Communities
Our Business Model and Issues Confronting Local Communities
A Short History of the Convenience Store Industry
Convenience stores began appearing in the 1970s. Open 24/7 and occupying a relatively small retail space of between 100 and 130 square meters in local neighborhood locations, these stores offered a carefully selected lineup of daily necessities. Products including bread, cigarettes, alcoholic beverages, stationery, and sundries that had generally been marketed by individual category in separate stores were sold together with an eye toward promoting consumer convenience. Over the years, a service component has been added to steadily augment the function and role of convenience stores in society. This includes home delivery, third-party bill settlement, concert ticket sales, ATM banking, and postal services. By addressing the small inconveniences of life and solving difficulties faced by local communities, the convenience store industry has continued to enjoy solid growth. With the more recent growth in large-scale roadside stores and decline in local shopping promenades as a result of motorization, convenience stores took on a neighborhood flavor, providing the backbone for small commercial areas. Industry growth was particularly supported by single-person households, namely men in their 20s and 30s.
Against the backdrop of continued growth in the convenience store industry, Lawson undertook anticipatory investments in order to build stores that match the needs of customers, taking into consideration population trends and changes in society. The Company has rolled out a succession of new formats. In 2001, we launched the health-oriented NATURAL LAWSON format. This was followed by the fresh food-type convenience store, LAWSON STORE100, in 2005. The ability to develop these formats and the knowhow accumulated by broadening the Company's customer base to include women and the elderly provide Lawson with its underlying strength. Making the most of its unique customer-driven research and development of products that continue to enhance convenience, its position as a manufacturing retailer based on small commercial areas engaged in activities that extend across the entire supply chain, and its franchise system that produces store owners well versed in the needs of the community, Lawson is steadily expanding its nationwide network of stores.
Today, convenience stores are an essential part of the community and a vital component of society's infrastructure, together with electricity, gas, and water. Going forward, Lawson will continue to promote its corporate philosophy of "Creating Happiness and Harmony in Our Communities" amid ongoing changes in society. At the same time, we will continue to confront each challenge faced by local communities head-on through the evolution of our business model.
Lawson's activities aimed at addressing challenges within the local community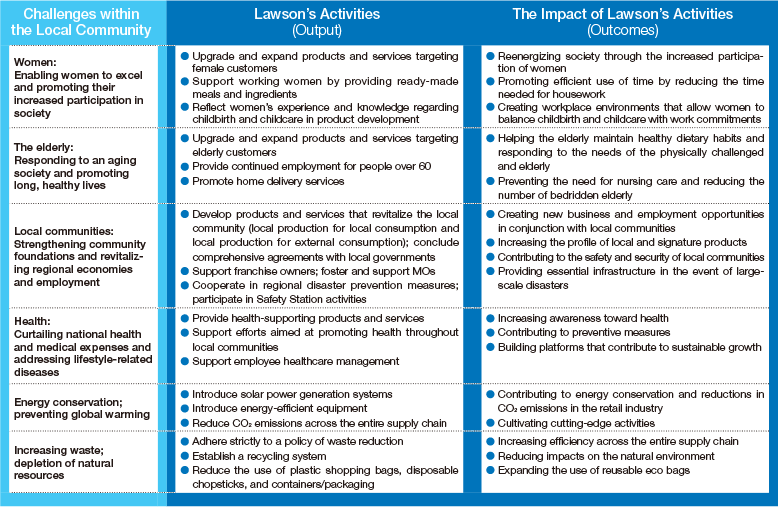 Our Business Model and Issues Confronting Local Communities
Other Contents

Lawson is not only a convenience store. We also have group companies including entertainment, media, ATM networks, and more.

Lawson regards its stakeholders as important and strives to maximize corporate value.

We strive to nurture human capital that thinks and acts autonomously.