ABOUT US

Our Business
Creating Happiness and Harmony in Our Communities
We reaffirmed our corporate philosophy, which is our starting point.
We will realize a state in which "whatever you want, whenever and wherever you need it" as the maximum contribution by a company that coexists with the local community.
Lawson believes that sustainable earnings growth and ongoing social contributions through our business are critically important.
Pursue our corporate philosophy "Creating Happiness and Harmony in Our Communities," build stronger relationships with customers, franchise owners, store crew (part-time and temporary workers), employees, and the community including the environment, and continuously improve the quality of our corporate governance.
We believe that these practices lead us to realize sustainable earnings growth and raise our corporate value.
The number of Stores in Japan
14,659
as of Feb. 2019
670
1,153
4,865
2,625
630
844
1,589
2,283
The growth of Stores in Japan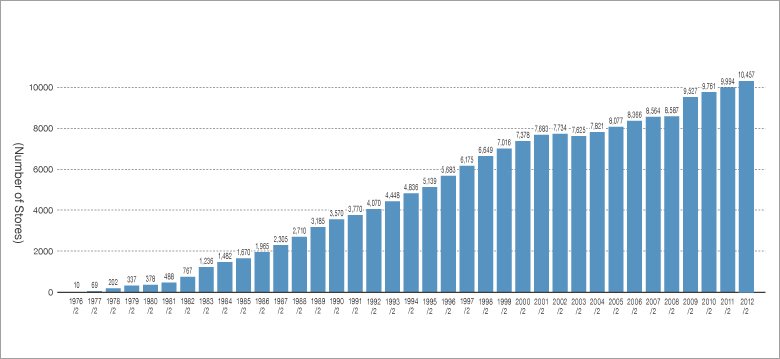 Driving Force for Sustainable Growth
Improve quality of corporate governance
Build good relationships with customers, franchise owners, store crew, and employees
Hand-in hand with the community in environmental preservation, etc.
Expansion of customer base leads to sustained earnings growth.
In recent years, many investors think that the Japanese Convenience store industry has matured and has arrived at a phase of decelerated growth rates. However, we strongly believe that the Convenience store industry is a growth industry. The Convenience store industry represents merely 5% of Japan's total sales of retail industry including the restaurant industry. This indicates that we still have the growth potential to fully capture customer needs in the substantially changing society. Considering higher demand in small catchment area formats, the Convenience store industry should be able to expand its share to over 10% in the retail and restaurant industries, as I see it. Convenience stores in Japan typically have men up to their forties as the major customer group but are facing two significant demographic changes. First is the accelerating aging of the population. Seniors prefer to buy food and necessities in appropriately-sized small quantities and conveniently-sized packages at nearby stores, rather than going into a distant large store to buy in bulk. Thus, they can be a suitable customer base for convenience stores based on small catchment areas. Second is women's social advancement. As more baby boomers are retiring, women are increasingly counted on as an important part of the workforce. When women begin to work outside the home, they are likely to increase use of convenience stores where they can quickly buy ready made meals and other food items at whatever time which suits them. Lawson has made various decisions and investments for expanding its customer base in view of these changes. The ratio of customers in their fifties and above has risen from about 20% in 2004 to around 32% in 2009. As people aged fifties and over are projected to represent about 40% of Japan's population in the future, Lawson will take measures to raise this customer bracket to 40-50% of sales. Our female customers now account for 35% of the total, up from 27% in fiscal 2004. Raising the representation of women and seniors among our customers will be a driving force for our growth.
Oversea Business
Creating Happiness and Harmony in Our Communities
as of Feb. 2019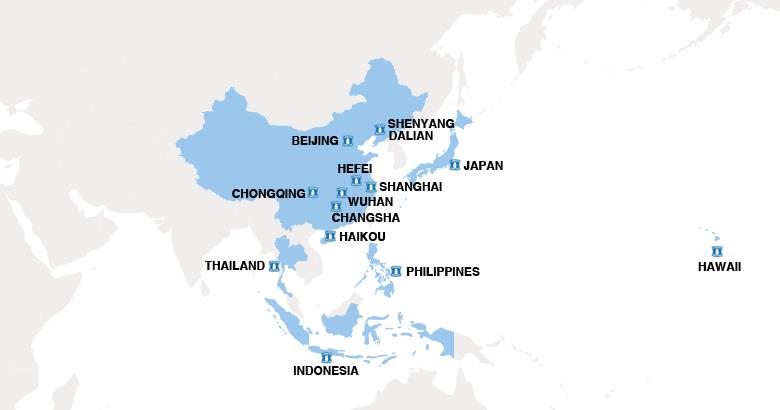 JAPAN 14,659 Stores
BEIJING 108 Stores
DALIAN 146 Stores
SHANGHAI 1,227 Stores
CHONGQING 198 Stores
WUHAN 308 Stores
HEFEI 20 Stores
THAILAND 120 Stores
PHILIPPINES 39 Stores
INDONESIA 41 Stores
HAWAII 2 Stores
We export our accumulated know-how in Japan to other countries.
Overseas markets are a part of our "Communities."
Setting up of the Overseas Group
Close dialogues with local companies
Hiring of non-Japanese new graduates
Lawson's future investment targets are overseas markets
Overseas markets are also important. We export our know-how in small catchment area formats and franchise business that have been accumulated in Japan to other countries. I am convinced that our knowledge acquired in the fastest-aging country, Japan, will be a competitive edge when entering into other countries which will also face the challenge of an aging population in the future. Up to now, we have been rather cautious in expanding stores overseas due to three reasons. Profitless expansion impairs corporate value, overseas development imposes various risks, and overseas expansion results in low return. Going forward, we will accelerate our opening of stores in Asia, but do so based on our judgment that the time for this has arrived. In fiscal 2010, we opened stores in Chongqing, the largest commercial area in southwestern China, following our entry in Shanghai. In fiscal 2011, we plan to raise our equity share in our operation in Shanghai and spearhead efforts to rebuild store management and franchise models. In terms of human resources, non-Japanese were 30% of new hires from two years ago. We are thus strengthening our workforce. As for organization, we set up the Overseas Group in March 2011.