Each day, 8 to 9 million people shop at Lawson in Japan. However, convenience stores make up only a 6% share of the total sales for Japan's retail and restaurant industries (including the food service industry). We believe that if we can bring our convenience to our female and elderly customers, that share will climb to 10%.
Now at Lawson, we can see what our customers are looking for based on weekday, time, and season through the purchase history of a point card called the Ponta card. There are already more than 40 million Ponta card users. We can produce original products at our company and deliver them in a timely manner for customers that make needs-analysis possible. This is a strong point that only Lawson has. Furthermore, we've applied this know-how we cultivated in our real stores to e-commerce businesses, and can provide appealing products via net shopping malls such as "Loppi" and "L Paca". In cooperation with Yahoo Japan, we will continue to expand our e-commerce business.  
A place that is close by, where you can buy the products you want now, where you can use services, and a place that is connected to net shopping malls - that place is the Lawson convenience store.
Other Contents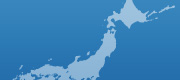 Lawson has three types of stores. See their differences and features.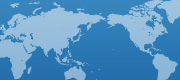 See the current status of Lawson's development in China and Indonesia.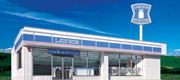 The style of an individual Lawson franchise. See the relationship between the owner and headquarters.