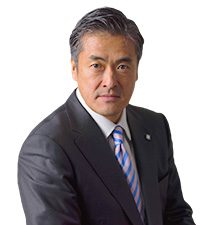 Today Lawson announced its financial results for the first half of fiscal 2015, or the six months to August 31, 2015. The main consolidated results are listed below:
• Operating profit
42.0 billion yen
(+5.1% year on year)
• Recurring profit
40.7 billion yen
(+3.0% year on year)
• Net profit
19.8 billion yen
(-9.5% year on year)
Click here for more detailed results.
Looking at the second quarter from June to August 2015, we launched a campaign in June offering limited special products to celebrate Lawson's 40th year in business. We also launched our "Passionate and Delicious" project, which involved a fundamental review of product manufacturing processes and a fresh focus on superior ingredients, manufacturing methods and taste. The resulting products, such as our sockeye salmon lunchbox made with quality Niigata koshihikari rice proved extremely popular with customers. In the first six months to August 2015, we conducted sales and campaigns to attract more customers, and also introduced some strategic price cuts on a portion of products. As a result, our gross profit margin held flat year on year, but same-store sales at Lawson Japan increased 1.2% on the back of a successful pickup in customer numbers.
All these measures, along with contributions from newly acquired subsidiaries Seijo Ishii and United Cinemas, helped consolidated operating profit expand by 5.1%, or 2.0 billion yen, to 42.0 billion yen in six months to August. Meanwhile, consolidated net profit contracted 9.2%, or 2.0 billion yen, year on year to 19.8 billion yen. The decline in profit was caused mainly by a drawdown on deferred tax assets following cuts in the statutory effective tax rate, and higher extraordinary losses for the period.
FY2015 2Q: Key business features
We began introducing our new semi-automatic ordering system from June to improve the delivery of products to our stores. The system is designed to recommend the most appropriate product lineup and number of items for delivery based on a range of data for ready-made snack meals and other categories, such as Ponta member purchasing trends, a store's most recent sales data and information on heavy user purchases, information from other stores with a similar customer base, the weather, and finally information on the various campaigns conducted. The semi-automatic ordering system had been introduced in approximately 7,500 stores at the end of August 2015.
We expanded the number of stores operating under the new franchise contract, where Lawson HQ commits to pay a portion of product disposal and electricity costs, to 6,300 stores. We were able to encourage approximately 3,000 stores to shift to this new franchise contract in the first half by allowing existing stores to renew contracts early in fiscal 2015. This, along with our efforts to transform store operations by offering stronger franchise store guidance and introducing semi-automatic ordering systems, should help spark latent customer needs, and also ensure that the very products customers want to buy are always on our shelves.
We introduced various product development initiatives and policies centered on our staple food category to help attract more customers. We launched our Niigata koshikhari sockeye salmon lunchbox and fully-filled cod roe rice balls as part of the "Passionate and Delicious" project. Furthermore, we worked hard to ensure our stores are easy for customers to navigate and we changed the packaging mainly on staple foods. We also continued our 100 yen rice ball sale in July and August, following its great success in May.
The competition for new store spots remains rife in the convenience store industry, but we are determined to continue our current management strategy through the second half of fiscal 2015, focusing on strengthening store capabilities, improving product offering and providing better support for franchise stores.
Lawson, Inc. is working hard to develop concrete activities in accordance with our Corporate Philosophy of "Creating Happiness and Harmony in Our Communities."
Our core goal for fiscal 2015 has been to strengthen the foundation of our convenience store business by focusing on three key areas: our stores, our products and our franchise system. This will help us respond effectively to social changes in our communities driven by falling birth rates, ageing population, and the increase in the number of women in the workforce. It will also help us highlight and maximize areas in which Lawson displays unique strengths, such as over-the-counter fast food.
Lawson will also continue to lay the foundations for sustainable future growth by promoting further development of Seijo Ishii's upscale supermarket operations, as well as our entertainment and home convenience operations and our international operation. I am confident that these strategies will help achieve our consolidated operating profit target for 2015.
I would like to thank our shareholders and investors for your continued and unwavering support of Lawson's management strategy, and I look forward to serving you in the years ahead.