STORES

Owners
Characteristics of the Lawson Franchise (FC) System
With the goal of realizing the corporate philosophy, the franchise stores and the Lawson headquarters pursue their business operations hand-in-hand with each other as partners.
The Lawson Franchise System
Lawson's convenience store business is run on a franchise system. Under this system, Lawson headquarters and franchise owners share the corporate philosophy of "Creating Happiness and Harmony in Our Communities," and work as equal partners toward growth. Headquarters provides franchises with a number of services, providing distribution and information, brand licensing, and operational expertise as well as continuous guidance and operational support. In return, as independent business operators, franchise owners seek to maximize profits by optimizing customer satisfaction while paying franchise fees and royalties. In this way, franchise owners and Lawson headquarters work in tandem, each playing their respective roles.
Building a strong partnership with each franchise owner through communicating directly with them
To date, Lawson has been striving to bolster its relationships with franchise owners in the belief that its growth rests largely on the entrepreneurial mindset of franchise owners and on its franchise system.
In the year ending February 28, 2016, in order to further pursue its regional and area strategies, Lawson expanded the number of its branches from 76 to 92, developing the framework to service local franchise stores in a more elaborate manner, thus assisting them in "creating a store loved by customers."
As a means of bolstering our partnerships with franchise stores, we hold events across Japan, including the Lawson Seminar event, designed for us to share Lawson's corporate policy and vision with franchise stores, the Franchise Owners' Meeting event, intended for an open exchange of opinions, and the Area Meeting event, designed for franchise owners to share their successful experiences and business plans. Moreover, since 1993 Lawson has been continuing to run the Direct-to-President and CEO Letter program allowing the franchise owner as well as the store manager and crews to present opinions and proposals directly to the Company's top manager.
The above-mentioned initiatives are aimed at turning franchise stores and the Lawson headquarters into one team that "creates happiness and harmony" in local communities with a sense of partnership.
1. Lawson Seminar

Lawson Seminar events are held every spring in eight locations around Japan for the purpose of spreading companywide principles and our vision. Top management gives a detailed explanation of business strategy to the roughly 20,000 attendees representing 10,000 stores.
2. Owners Meeting

Owners Meeting events are held every autumn around Japan, with approximately 15,000 people participating on behalf of 10,000 store locations. The events are an opportunity for franchise owners to exchange opinions.
3. Area Meeting

Lawson holds the Area Meeting event in about 300 venues within its 92 branch offices across Japan from Hokkaido to Kyushu. The event is designed for franchise owners to share their successful experiences and exchange opinions with one another, thus enhancing their ability to manage individual convenience stores.
4. Direct-to-President and CEO Letter program

The Direct-to-President and CEO Letter program is a unique scheme that enables the franchise owners as well as the store managers and crews to present proposals, opinions or grievances directly to Lawson's top manager, who reads all the delivered messages before responding in writing. The number of Direct-to-President and CEO Letters has exceeded the 10,000 mark on a cumulative basis since the program's launch back in 1993.
Furthermore, Lawson continues to share information with franchise stores by issuing a monthly internal magazine titled "Store Creation for All" as a vehicle to provide them with information on its marketing measures. In addition, the Company conducts an awareness survey program called the "Franchise Owner Questionnaire Survey" on an annual basis before using a group report to present feedback on the survey result.
Our Management Owner System Encourages Strongly Entrepreneurial Franchise Owners to Open Multiple Stores

Lawson has created the management owner (MO) system to support franchise owners in expanding their businesses as locally based entrepreneurs. Launched in 2010, this unique system aims to nurture outstanding MOs through training that imparts the management knowledge and skills necessary for multi-store operations. MOs work to expand their business and operate multiple stores while maintaining high customer satisfaction by cultivating store consultants (SCs), who act as business managers, as well as store managers and crews (part-time and temporary workers) within their own organizations.

At the annual MO meeting, MOs and management representatives from headquarters exchange opinions and information about opening new stores, helping MOs with their business plans. MOs also have the opportunity to offer their opinions about new products before they are released. Such opinions have been reflected in some desserts and fast foods prior to launch.
Lawson's Step-Up Model for Franchise Owners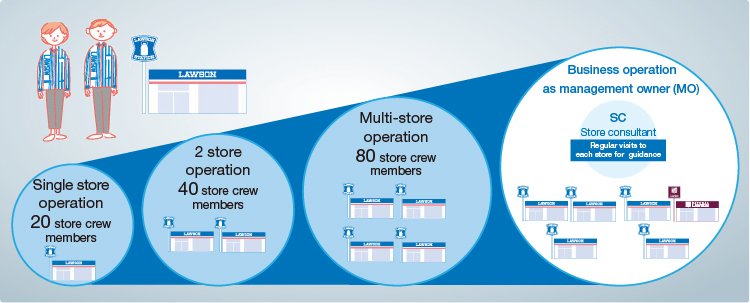 Management Owner (MO):

An MO is a type of franchise owner officially approved by the Lawson headquarters as one that is in an even stronger partnership with the headquarters. Furthermore, an MO is a business operator who runs multi-store operations in a manner befitting the local area and aims for growth hand-in-hand with the headquarters.

Store Consultant (SC):

An SC is a store manager within the MO organization who has been granted SC qualifications certified by the Lawson headquarters through undergoing a process of specified training and review, and who is charged with making a round of visits to individual Lawson stores to provide them with operational guidance.
Education and training system for franchise stores
– Striving to create an environment that allows the franchise owners to engage in operations in a carefree manner
Basic Management Course (BMC)


This training course aims to instill Lawson's Corporate Philosophy as well as the information and know-how necessary for store management and operation
Human capital development is one of the most important aspects of store management. Lawson provides a wide variety of training to franchise owners, family employees and store crews (part-time and temporary workers). Prior to opening a Lawson store, the franchise owner is supposed to take the Basic Management Course (BMC) training for acquiring basic store operation skills, and to then go on to take other courses tailored to its growth level one, two, and five years after store opening, respectively.
Click here for more information about Lawson University, our unique education unit.
Welfare Systems for Franchise Owners

Various worker welfare service offerings and support system are available
A Lawson Owner Welfare Association pamphlet
A seminar convened by the Welfare Association to promote health
Based on the three principles of comfort, health, and peace of mind, the Lawson Owner Welfare Association provides welfare systems directed at franchised stores. Franchise owners (the organization's members) and their families as well as store staff and crew can use this system.
Reflecting Lawson's efforts to create leading stores that promote health and wellness in communities, the association offers a system to encourage everyone who works at franchised stores to undergo regular health checkups as well as other special privileges, perks, and discounts aimed at promoting health.
The association also offers a range of other services:
Use of sports clubs at member prices
Convenient travel and accommodation services
Assistance programs for child-rearing and nursing care
Seminars supporting interaction among franchise stores and with headquarters
Assistance program for correspondence education and health management
Discount and priority programs for facilities providing such lifestylerelated services as gourmet meals and leisure activities
Celebration and condolence allowance programs
Insurance programs for franchise stores (insurance to compensate store crew for incidents occurring at work or while commuting)
Establishment of a hotline for psychological care
...and others.
In addition to the Lawson Owner Welfare System, we offer the Owner Support System, under which employees from headquarters can take charge and run stores while franchise owners take time off, and the Store Support Desk, which answers questions about store operations 24 hours a day.