ABOUT US

Employees
Health Management (Occupational Health and Safety)
Commitment to Health Management
Lawson promotes the health of all its personnel as an appropriate policy for a company dedicated to providing overall support for its customers' efforts to lead healthy lives in accordance with its Corporate Philosophy, "Creating Happiness and Harmony in Our Communities." Our concern for employee health extends beyond individuals to include their families as indispensable factors in the Company's development. Employees can perform up to their potential only when their family life is fulfilling. Japanese society is also seeking to secure longer, healthier lives for its citizenry, moreover, as a means of stabilizing the working population and reducing medical costs. Lawson has made it a key mission of management to maintain and improve the health of Lawson Group employees.
Sadanobu Takemasu
President and CEO
Representative Director
Chairman of the Board
CHO(Chief Health Officer)

System Construction
As Chief Health Officer (CHO) and Chairman of the Health Station Promotion Committee, the President bolsters and drives Lawson's internal and customer-oriented health initiatives as well as its health management.
To keep Lawson Group employees healthy and improve their health, we established the Lawson Group Health and Wellness Promotion Center where expert staff members are permanently stationed, as a unit directly under the control of the President. The unit implements various measures in collaboration with the CHO Assistant (Employment Medical Advisor and President of the Health Insurance Association), Human Resources Division (Employee Health Team), Lawson Health Insurance Association, and labor unions.
<Organization Chart>
Health Target Values
We have set targets for achievement by 2018 of the eight priority items shown below and are implementing measures with respect to each.
FY2011
FY2012
FY2013
FY2014
FY2015
FY2016
FY2017
FY2018
Results
Results
Results
Results
Results
Results
Results
Targets
Obesity
Males
37.4%
37.3%
37.8%
37.2%
37.4%
36.8%
35.5%
27.7%
Females
17.5%
18.0%
18.2%
18.6%
17.8%
18.6%
20.2%
17.0%
Cholesterol
32.5%
32.8%
30.1%
30.0%
33.4%
32.2%
30.2%
27.2%
Blood pressure
9.5%
8.8%
7.1%
7.4%
7.1%
7.5%
7.2%
6.2%
Blood sugar
7.0%
11.4%
12.0%
11.5%
7.2%
7.2%
7.1%
6.3%
Smoking
37.5%
37.9%
37.4%
35.3%
35.1%
33.1%
33.3%
23.3%
Absenteeism
Employees taking leaves (physical illness)
0.2%
0.2%
0.2%
0.2%
0.1%
0.1%
0.2%
0.1%
Employees taking leaves (mental condition)
0.4%
0.4%
0.4%
0.4%
0.4%
0.2%
0.3%
0.4%
Ratio of fathers taking childcare leaves
-
-
-
16.1%
70.0%
80.3%
80.1%
100.0%
* Obesity: BMI 25 or above; cholesterol: applicable value among HDL 39 mg/dl or below, LDL 140 mg/dl or above; or TG 150 mg/dl or below; blood pressure: 140 mmHg or above; blood sugar: fasting blood glucose 110 mg/dl or above or HbA1c 6.3%
Publication of Health White Paper
We conduct numerical analyses of transitions in the health of all our employees and the results of various initiatives, and publish an annual Health White Paper showing the status of progress toward our target values along with results based on other health plan data.
Categorized Health Program
We are actively constructing programs to encourage healthy everyday living, proposing lifestyle choices with a view to mental health maintenance, reinforcing our stress checking systems, conducting sports competitions, encouraging leisure time and supporting employee child rearing.
In our efforts to assure good mental health, moreover, we implement mental health e-learning for all employees and conduct health seminars at every business site. We are also introducing a rehabilitation work system for employees who are returning from leaves due to illness.
| | | |
| --- | --- | --- |
| <Poster promoting childcare leave-taking by male employees> | <Employee sports competition> | <Enjoying employee club activity> |
| | | |
<Health guidance with lodgement>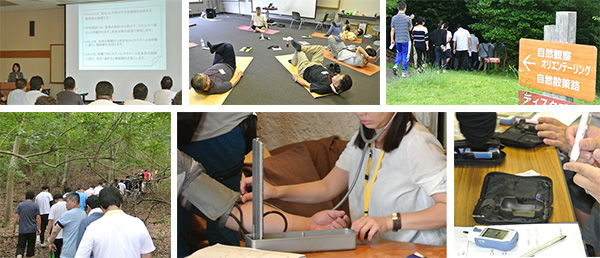 What is the Lawson Healthcare Points program?
1. Determine a Health Declaration

Employees must take a hard look at their health condition, determine a health challenge (target) to be addressed based on their health examination results and use a smartphone (the Web) to monitor their own routine activities. Employees who achieve their targets are granted applicable Lawson Healthcare Points.
2. Learn about health

The employees must take an e-learning course on health. Passing the test earns the employees applicable Lawson Healthcare Points.
3. Hold a health event

Any employee planning and implementing an internal department program or a health features-based recreational event on a workplace basis is granted applicable Lawson Healthcare Points.
Industrial Safety and Health Promotion
We seek to create safe, comfortable workplace environments by promoting the "5S Methodology" with its focus on "Sorting, Systematizing, Sanitizing, Sustaining and Supervising" at the stores, and by providing store crews with manuals that clearly illustrate operating procedures.
We also hold safety management meetings to raise awareness of the importance of safe driving among store supervisors whose jobs involve driving and award official commendations to those with no history of traffic accidents or violations.
Should an accident occur during working hours, moreover, we investigate and analyze the cause and share our findings internally in an effort to prevent recurrences.
Promoting the Health of Franchise Owners and Store Crews

- a basic requirement for a company committed to supporting customer health
Maintaining the health not only of employees but also of our franchise owners and store crews is one of Lawson's most significant concerns. We offer subsidies for physical examinations and other medical tests through the Lawson Owner Welfare Association along with a menu of other health support benefits.