CORPORATE SOCIAL RESPONSIBILITY

Energy Saving
Managing Stores to Save Energy
Reduction of per-Store Electricity Consumption by 20% by Fiscal 2020
(compared to the fiscal 2010 level).
▲

A freezer and refrigeration system using CO2 coolant
This system has better effects for preventing global warming compared with CFC equipment as well as higher energy-saving effects.
Lawson works to reduce electricity consumption at the stores to reduce their environmental impact. Setting "Toward a 20% reduction in electricity consumption per-store compared to the fiscal 2010" as its medium-term energy saving target for fiscal 2020, Lawson is proactively introducing energy-saving refrigeration and air-conditioning equipment as well as LED lighting in its store facilities.
per-Store Electricity Consumption (Index) and CO2 Emissions*1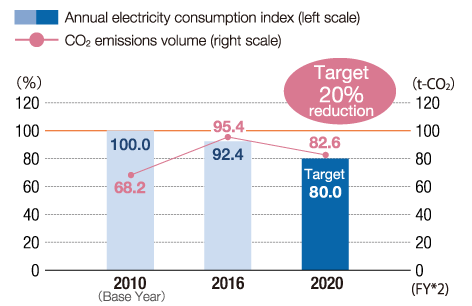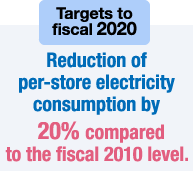 Notes : 
1.

CO2 emissions derived using adjusted coefficients for receiving-end terminals published by the Federation of Electric Power Companies of Japan.
The figures for fiscal 2020 and for fiscal 2016 are estimated based on coefficients for fiscal 2015.

2.

Calculated for the year from April 1 to March 31 to coincide with the administrative fiscal year.
Initiatives at Energy-Saving Model Stores
Lawson is opening energy-saving model stores throughout Japan into which different types of eco-friendly facilities are introduced. Effective types of cutting-edge equipment are installed in other stores after their effects in terms of renewable energy use and performance are verified.
▲

LAWSON Kodaira Tenjin-cho 2-chome Store
(Kodaira City, Tokyo)
In an open environment-friendly model store in February 2017, "LAWSON Kodaira Tenjin-cho 2-chome Store", conducted a variety of energy-creating and energy-saving measures.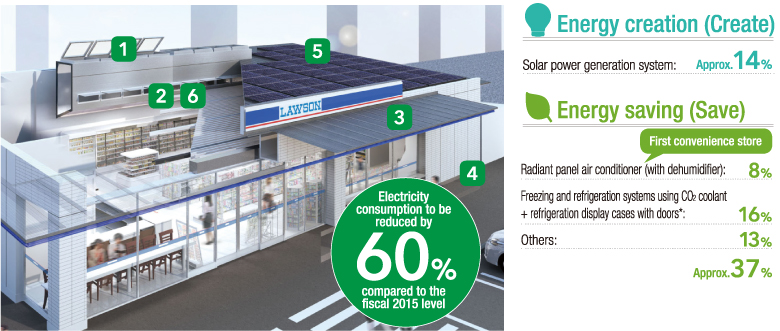 1.Solar collector roof windows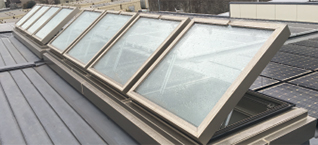 Automatic lighting control responding to natural light. Solar heat collected by the windows is used for heating during winter to supplement the air conditioner.
2.Sloped ceiling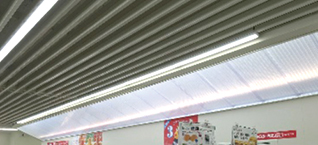 This improves air-conditioning and ventilation efficiency. A natural convection flow created by warm air (heat) in the store rising to higher part of the ceiling creates air circulation or ventilation.
3.Polycarbonate eaves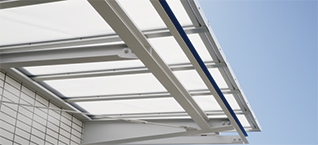 These brighten the sales floor, contributing to reducing lighting costs. During summer, they deflect solar radiation and reduce solar heat, improving air-conditioning efficiency.
4.Use of under-floor geothermal energy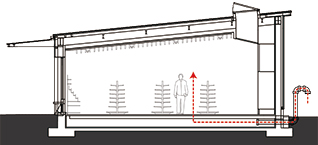 Geothermal energy accumulated in the under-floor space is used for store ventilation. The system improves airconditioning efficiency as it supplies air close to room temperature.
5.Solar power generation system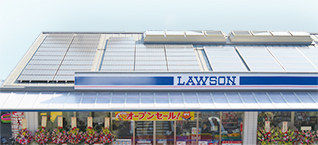 Solar panels equivalent to 22kW are installed on the rooftop of the store for power generation. Power equivalent to 10kW is to be sold, while power equivalent to 12kW is to be consumed in the store.
6.Radiant panel air conditioner
 (with dehumidifier)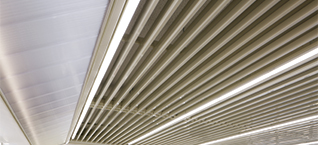 Radiation panels on the ceiling keep the store cool in summer and dehumidify the air by discharging the condensation generated.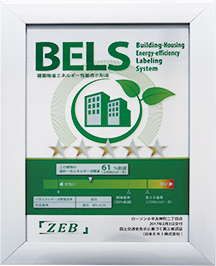 The LAWSON Kodaira Tenjin-cho 2-chome Store, an eco-friendly model store, acquired a five-star rating, the highest in the Building Energy-efficiency Labeling System (BELS), which evaluates the energy-saving performance of buildings on a five-level scale. The store also achieved "net Zero Energy Building" (ZEB), the highest of the three levels (ZEB, Nearly ZEB, and ZEB Ready) in the energy rating system for buildings. If a building has achieved net zero primary energy consumption (energy used for air-conditioning, ventilation, lighting, hot water, etc.) through the use of renewable energy, installation of highly energyefficient equipment etc., the building is given a ZEB rating.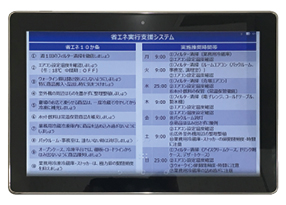 The system sends notifications to a tablet installed at the store to carry out daily "energy savings." It also sends the tablet notifications to carry out "energy saving" (or "energy creation") during peak energy consumption periods to ensure a stable power supply. Upon confirming the notifications, store equipment (refrigerators, air conditioner, lighting equipment, etc.) equipped with IoT technology in the store automatically saves (or creates) energy. This is the first initiative of its kind to receive approval from the Ministry of Economy, Trade and Industry as a Virtual Power Plant Test Project in the convenience store industry.
Pursuing Innovation toward Eco-Friendly Stores
Since August 2008, Lawson has been opening eco-friendly model stores that use natural energy such as natural light, wind and geothermal energy. Facilities that are found to offer excellent energy-saving effects are then introduced to existing stores for further energy conservation and reduction of CO2. The findings obtained through these efforts have yielded such fruits as solar-power systems, LED lighting and freezer and refrigeration systems using natural (CO2) coolants.
List of Eco-Friendly Stores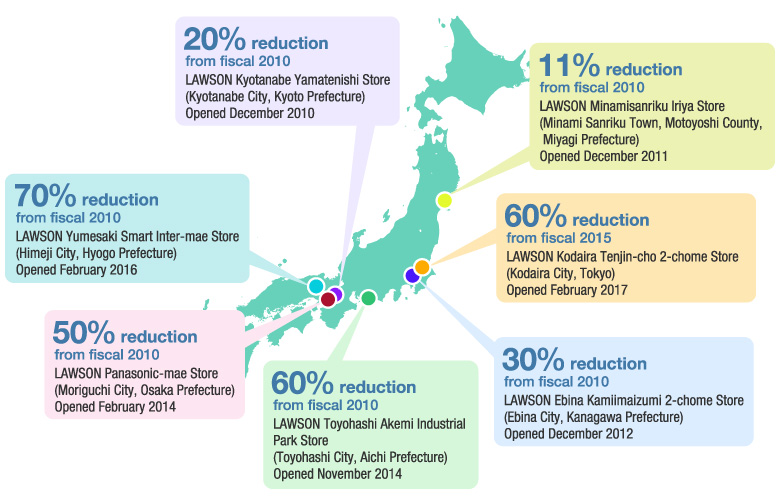 Active introduction of freezing and refrigeration systems using CO2 coolant
In fiscal 2010, Lawson began installing CFC-free (CO2 coolant) freezing and refrigeration systems that have high energy-saving effects. The total number of stores with the systems reached about 2,000 as of February 28, 2017. The impact of CO2 coolant on Earth's atmosphere is very small, just 1/4,000 that of CFC coolants, greatly reducing greenhouse gas emissions. CO2 coolant is also highly energy efficient, reducing the electricity consumption in all stores by 12%.

Solar Power Systems
Solar panels equivalent to 22 kW installed at the Kodaira Tenjin-cho 2-chome Store (excelling the usual 12 kW)
Lawson is installing solar power generation systems as part of efforts to promote the use of renewable energy sources. As of the end of fiscal 2016, such systems have been installed at about 2,000 Lawson Group stores.

Lawson's systems have a generating capacity of 12 kW, comprising 10 kW (two 5 kW devices) for power sales and 2 kW for in-store use. With these systems, one store generates about 11,000 kWh per year, meaning that 2,000 stores generate an annual total of 22 million kWh, enough to supply about 6,100 households in Japan, which use an average of 3,600 kWh annually.
Awarded "Environment Minister's Award for Global Warming Prevention Activities (introduction of advanced countermeasure technology)"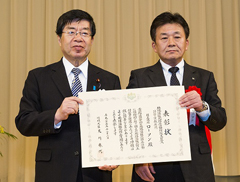 Lawson received a commendation in the Global Contribution category of the 2015 Commendation for Global Warming Prevention Activity sponsored by the Ministry of the Environment. This award recognizes Lawson's considerable contributions to global warming prevention and energy conservation as well as to reduced emissions of air pollutants through the introduction of CO2 refrigeration systems to its stores in Indonesia, which make full use of cutting-edge technologies.
Awarded The Food Industry Mottainai Award Commendation from Secretary General of Food Industry Affairs Bureau.
Lawson was awarded the "The 2nd Food Industry Mottainai Award Commendation from Secretary General of Food Industry Affairs Bureau" for its environmental and social activities, including adoption of freezer and refrigeration systems using CFC-free CO2 coolants and its "MACHI café" fresh-brewed coffee service.
This innovative freezer and refrigeration system with its excellent energy-saving effects contributes to reduction of CO2 emissions with a global warming potential of about 1/4000 compared with CFC systems. Our corporate strategy of proactively introducing the system to new stores (excluding tenant and some other stores) throughout Japan opened in August 2014 and thereafter as a active adoption facility following the start of introduction in fiscal 2010 has been highly commended.
MACHI café's use of beans produced on Rainforest Alliance CertifiedTM farms and its carbon-offset activities were also commended, as were the environmental conservation activities we promoted in cooperation with customers.
Participation in a Photovoltaic Power Generation Business through a Citizens' Fund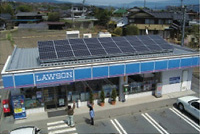 ▲ Solar panels installed on the roof
of the Iida Dashina Store
Lawson is involved in a photovoltaic power generation business called the South Shinshu Ohisama Power Station Installation Project under the auspices of a citizens' fund, the Global Warming Prevention Ohisama Fund. Power generated by solar panels installed on the rooftops of two LAWSON stores in Iida City, Nagano Prefecture, by the citizens' fund with a subsidy from the Ministry of the Environment is purchased by the stores for their internal consumption. The panels on the Iida Dashina Store generate approximately 5,000 kWh of power, while the Iida Zakoji Store's panels generate approximately 9,500 kWh. Power generation by this business is approved/authorized by the Green Energy Certification Center, and the "Environmental Value" of the generated power is represented as Renewable Energy Certificates*.
* Renewable Energy Certificate: The environmental value of power generated using sunlight, wind power, and other natural energy sources is recognized in the form of tradable certificates.