CORPORATE SOCIAL RESPONSIBILITY

Energy Saving
Managing Stores to Save Energy
Toward a 20% Reduction in Power Consumption per Store in Fiscal 2020
▲

A freezer and refrigeration system using CO2 coolant
This system has better effects for preventing global warming compared with CFC equipment as well as higher energy-saving effects.
Lawson works to reduce electricity consumption at the stores to reduce their environmental impact. Setting "Toward a 20% reduction in electricity consumption per store compared with fiscal 2010" as its medium-term energy saving target for fiscal 2020, Lawson is proactively introducing energy-saving refrigeration and air-conditioning equipment as well as LED lighting in its store facilities.
Per-Store Electricity Consumption (Index) and CO2 Emissions*1
Notes : 
1.

CO2 emissions derived using adjusted coefficients for receiving-end terminals published by the Federation of Electric Power Companies of Japan.
The figures for fiscal 2020 and for fiscal 2014 are estimated based on coefficients for fiscal 2013.

2.

Calculated for the year from April 1 to March 31 to coincide with the administrative fiscal year.
Initiatives at Energy-Saving Model Stores
Lawson is opening energy-saving model stores throughout Japan into which different types of eco-friendly facilities are introduced. Effective types of cutting-edge equipment are installed in other stores after their effects in terms of renewable energy use and performance are verified.
▲

LAWSON Yumesaki Smart Inter-mae Store
(Himeji City, Hyogo Prefecture)
In an open environment-friendly model shop in February 2016, "Lawson Yumesaki smart Inter before shop", conducted a variety of energy-creating and energy-saving measures, with the aim of fiscal 2010 ratio of about 70% reduction of the procurement amount of power from the outside you.
Among them, it introduced the convenience store's first "biomass power generation" equipment, using used cooking oil discharged from the store a part of the (waste oil) as fuel for the generator and recycled to biodiesel fuel (BDF), power generation the electrical has been available in the store.
1

2

3

4

5

6

7

8

9

10

11

12
Pursuing Innovation toward Eco-Friendly Stores
Since August 2008, Lawson has been opening eco-friendly model stores every year that use natural energy such as natural light, wind and geothermal energy in cooperation with the Institute of Industrial Science, Tokyo University (Yashiro and Magori laboratories). Facilities that are found to offer excellent energy-saving effects are then introduced to existing stores for further energy conservation and reduction of CO2. The findings obtained through these efforts have yielded such fruits as solar-power systems, LED lighting and freezer and refrigeration systems using natural (CO2) coolants.
Solar Power Systems
Solar-power system installed on a store rooftop of the LAWSON Panasonic-mae Store (in front of the Panasonic head office)
Lawson is installing solar power generation systems as part of efforts to promote the use of renewable energy sources. As of the end of fiscal 2014, such systems have been installed at about 2,000 Lawson Group stores.

Lawson's systems have a generating capacity of 12 kW, comprising 10 kW (two 5 kW devices) for power sales and 2 kW for in-store use. With these systems, one store generates about 11,000 kWh per year, meaning that 2,000 stores generate an annual total of 22 million kWh, enough to supply about 7,200 households in Japan, which use an average of 3,600 kWh annually.
List of Eco-Friendly Stores
Awarded "Environment Minister's Award for Global Warming Prevention Activities (introduction of advanced countermeasure technology)"
Lawson received a commendation in the Global Contribution category of the 2015 Commendation for Global Warming Prevention Activity sponsored by the Ministry of the Environment. This award recognizes Lawson's considerable contributions to global warming prevention and energy conservation as well as to reduced emissions of air pollutants through the introduction of CO2 refrigeration systems to its stores in Indonesia, which make full use of cutting-edge technologies.
Awarded The Food Industry Mottainai Award Commendation from Secretary General of Food Industry Affairs Bureau.
LAWSON was awarded the "The 2nd Food Industry Mottainai Award Commendation from Secretary General of Food Industry Affairs Bureau" for its environmental and social activities, including adoption of freezer and refrigeration systems using CFC-free CO2 coolants and its "MACHI café" fresh-brewed coffee service.
This innovative freezer and refrigeration system with its excellent energy-saving effects contributes to reduction of CO2 emissions with a global warming potential of about 1/4000 compared with CFC systems. Our corporate strategy of proactively introducing the system to new stores (excluding tenant and some other stores) throughout Japan opened in August 2014 and thereafter as a active adoption facility following the start of introduction in fiscal 2010 has been highly commended.
MACHI café's use of beans produced on Rainforest Alliance CertifiedTM farms and its carbon-offset activities were also commended, as were the environmental conservation activities we promoted in cooperation with customers.
Participation in a Photovoltaic Power Generation Business through a Citizens' Fund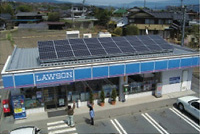 ▲ Solar panels installed on the roof
of the Iida Dashina Store
LAWSON is involved in a photovoltaic power generation business called the South Shinshu Ohisama Power Station Installation Project under the auspices of a citizens' fund, the Global Warming Prevention Ohisama Fund. Power generated by solar panels installed on the rooftops of two LAWSON stores in Iida City, Nagano Prefecture, by the citizens' fund with a subsidy from the Ministry of the Environment is purchased by the stores for their internal consumption. The panels on the Iida Dashina Store generate approximately 5,000 kWh of power, while the Iida Zakoji Store's panels generate approximately 9,500 kWh. Power generation by this business is approved/authorized by the Green Energy Certification Center, and the "Environmental Value" of the generated power is represented as Renewable Energy Certificates*.
* Renewable Energy Certificate: The environmental value of power generated using sunlight, wind power, and other natural energy sources is recognized in the form of tradable certificates.