CORPORATE SOCIAL RESPONSIBILITY

Resource Saving
Use of Eco-Friendly Containers and Packaging
In the area of containers and packaging used for boxed meals, prepared foods, and other items, we strive to reduce usage volumes in a variety of ways and actively utilize eco-friendly materials.
Reducing Unnecessary Use
To more effectively utilize finite resources, while ensuring container safety, we have reduced the weight of containers and packaging by adopting foam materials, making packaging thinner, and optimizing container shapes. Through these efforts, packaging weight per item in fiscal 2017 was down 9.9% from fiscal 2006.
Container / Packaging Weight and CO2 Emissions when Incinerated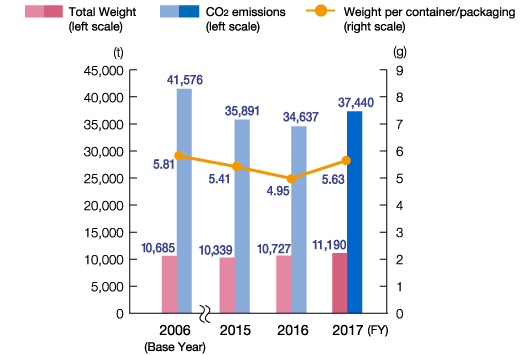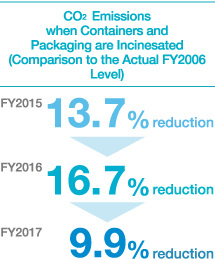 Boxed meal container with plastic wrap for protection only around the edge of the lid
We changed the method used to pack boxed meal containers and stopped covering them entirely with plastic wrap. Now we protect the containers by covering only the edge of their lids with plastic wrap, which has resulted in a reduction of plastic usage volume by about 40% and CO2 emissions by 40%.
Using Eco-Friendly Materials
Container for chilled noodle products made with bio-PET

Plastic shopping bags used by Natural Lawson

Using biological ink for packing materials
Among its environmental initiatives, Lawson has been using a bio-PET material derived partially from sugarcane for its chilled noodle product containers.
Moreover, containers are made from bio-PET plastic, part of which is derived from a plant(sugarcane).From October 2017, plastic shopping bags used by Natural Lawson are made from polyethylene, part of which is derived from sugarcane.
As part of our green actions for products and services, we are using biological ink for printing on packing materials for original products. Biomass ink is used for packing films for rice balls wrapped or self-hand-rolled with nori (dried seaweed), while plant oil ink is used for their product labels. Biomass ink is also used for packing films for Niigata Koshihikari rice balls. We expect that these actions will reduce CO2 emissions by about 42 tons in a year.