PRODUCTS & SERVICES

Online Shopping
Lawson provides safety and freshness to the customers even who are not able to visit stores, through both online and offline.
Convenience stores have accumulated strength in actual merchandise and convenience in being close to customers. The stores can further evolve by adding the Internet's search function and diversity in merchandise assortments. Up to now, Lawson has worked on increasing the number of items for transactions and servicing customers who do not visit our stores. Going forward, through business alliances with Yahoo Japan Corporation, both companies will collaborate to offer new services by utilizing the advantages of Yahoo's Internet platform and Lawson's stores.
In June 2011, we launched a service to provide useful and appealing information to customers near Lawson stores on "Yahoo! Local," Japan's biggest location-based service. In the future, items from Yahoo! Shopping online stores will become available for purchase by shoppers at Lawson's online mall, Loppi, while members of the Ponta card program will receive information on special prices and other opportunities when they do shopping on the online mall Loppi.
Image of the EC mall business structure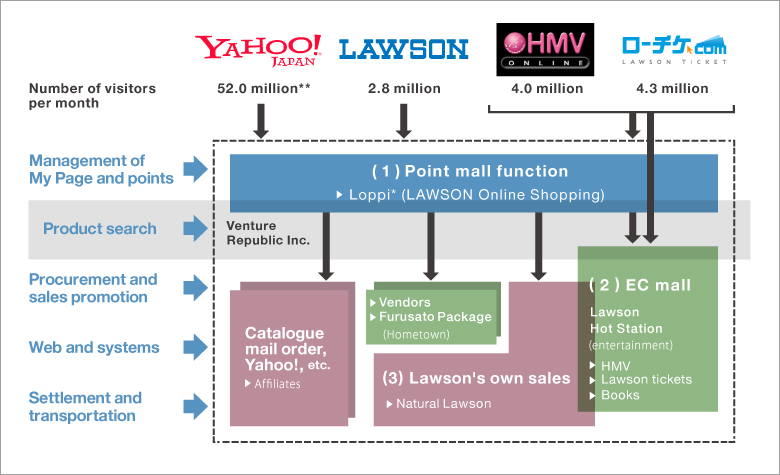 * Loppi used to mean multimedia terminals at stores but now indicates Lawson's overall e-commerce services.
** The access number from home or office in June 2011, based on data from Nielsen Online "NetView."