Medium-Term Strategy
Striving for an ROE of 20% and consolidated operating
profit of 100 billion yen to meet the expectations of global investors
Roadmap to sustainable medium-term growth and a 20% ROE

In carrying out its operations, Lawson has laid out a road map based on an ROE target of 20%, the global standard for capital efficiency. There are essentially two ways to achieve this target. One is to increase profit by increasing operating cash flows in our core business, and the other is through finance strategies to increase capital efficiency.
Firstly to achieve an ROE of 20%, we work for a target of 100 billion yen in consolidated operating profit mainly through the increase of profit from our core business. We will place considerable emphasis on expanding gross profit at existing stores, which is linked directly to the profits of franchise owners, and increase the gross profit margin on a medium- to long-term basis by, among others, expanding our line of original products with high profit margins, including over-the-counter fast foods, and reducing procurement costs by improving supply chain management. Turning to our plans to open new stores, we will continue to focus on profitability and maintain the rate of increase of the number of stores at about 5 percent per year. Buoyed by these business initiatives, we aim to increase the net sales for all stores operating profit ratio from 3.5% (fiscal 2015 results) to 5.0%.
Changes in ROIC*1 over 10 years compared with competitors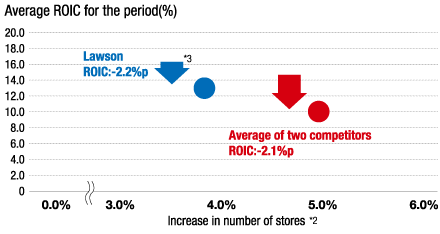 Notes:

1.

ROIC = Operating profit after taxes (assuming a 40% tax rate) ÷
Average interim capital investment (total equity + interest-bearing debt)

2.

The horizontal axis indicates changes in number of stores (from FY2005 to FY2015)

3.

The arrows indicate changes in ROIC from FY2005 to FY2015
Moreover, it will also be important to distribute cash flow in a manner that balances the need for optimal medium-term reinvestment with the need to return profits to shareholders, while placing profit growth through our core business as our first priority. We will not simply pursue expansion of scale but will strictly review the return on investment (ROI) of each. Our corporate management is also clarifying its grasp of the ROI from individual investments to facilitate objective determination of the potential for appropriate returns from domestic store openings and other future projects. Our acquisition of Seijo Ishii last year, for example, was conducted following exhaustive discussions involving outside directors. These concentrated on determining whether future cash flows from operating the business would provide a proper balance with the enterprise value, including not only the cost of stock acquisition but interest-bearing debt as well. Maintenance of this capital discipline is evident in the comparison with competitors on the return on invested capital (ROIC) over the past decade.
On the basis of the unique business model of existing convenience stores serving as a manufacturing retailer based on a small commercial area model, Lawson seeks to capture further growth opportunities that arise from the anticipated future reorganization of the industry, taking into consideration M&As and alliances across conventional drugstore, supermarket, and other business formats. We will not, however, merely seek an increase in net sales and the number of stores. Rather, we will carefully assess the possible synergistic effect of the business, while making sure to maintain capital discipline.
Furthermore, it is necessary to balance strict discipline and individual independence for the achievement of sustainable growth through new value creation, and accordingly, we will focus on the development of self-motivated and innovative employees and promotion of organizational diversity through the recruitment of more female employees and foreign nationals.
Lawson seeks to realize its Corporate Philosophy of "Creating Happiness and Harmony in Our Communities" by operating neighborhood stores that satisfy the needs of customers in our communities.
ROE: Comparison with retailers around the world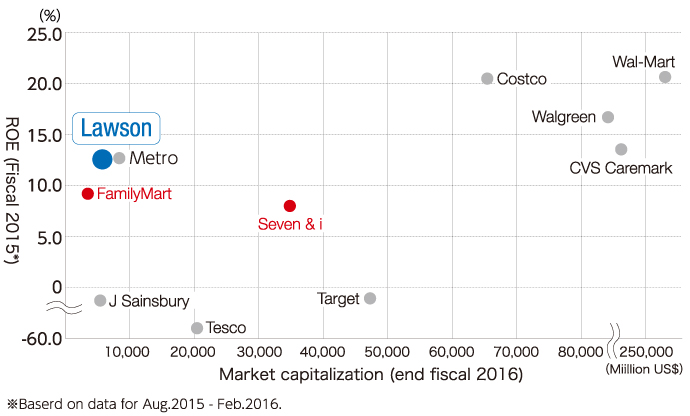 Other Contents

Lawson is not only a convenience store. We also have group companies including entertainment, media, ATM networks, and more.

Lawson regards its stakeholders as important and strives to maximize corporate value.

We strive to nurture human capital that thinks and acts autonomously.